STEVE McQUEEN: Full-Throttle Cool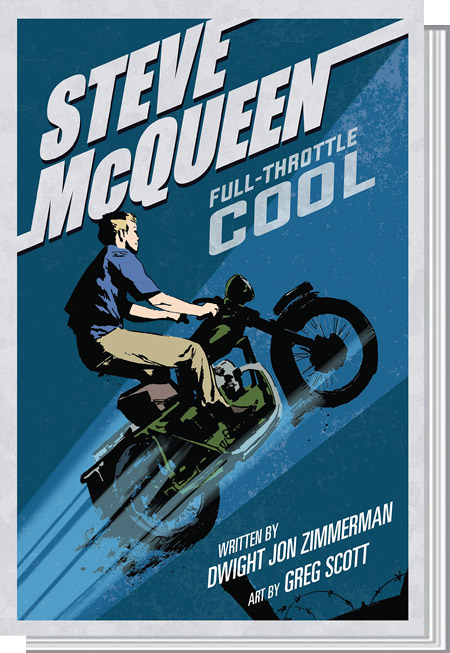 Steve McQueen said, "I'm not sure whether I'm an actor who races or a racer who acts." Fortunately for us, he was the best of both.
McQueen left an indelible imprint as one of Hollywood's sexiest leading men. His masterful film roles in Bullitt, The Great Escape, The Thomas Crown Affair, and Papillion have been often imitated but never repeated. An actor, motorcycle and automobile racer, and all-around gearhead, McQueen also epitomized the American dream, rising from hardscrabble circumstances to become one of the most famous movie stars in the world.
Steve McQueen: Full-Throttle Cool presents McQueen's life story in an artistic, graphic-novel format. It covers his entire life, from his earliest years growing up in a suburb of Indianapolis to his death from mesothelioma. Learn all about his stunning movie career, in which he defined the antihero archetype. The cool panache he brought to the screen was perhaps only matched by his adrenaline-pumping racing exploits. Get the full measure of both from this book.
REVIEWS
Give me a good biography in a comics format anytime. The new graphic novel version of the life of actor and race car driver Steven McQueen is straightforward and appealing. Make no mistake, Steve McQueen was one serious race car driver as "Steve McQueen: Full Throttle Cool," published by Motorbooks, bears out. Written by Dwight Jon Zimmerman and illustrated by Greg Scott, we zigzag between the movie set and the race track as the remarkable life of a true legend unfolds.

–Henry Chamberlain
Comics Grinder
So what makes Steve McQueen: Full Throttle Cool different? The book's artistic view of McQueen's life, developed as a graphic-novel feel by artist Greg Scott, who has been a comic-book artist for both Marvel and DC Comics and carries a long list of credentials, makes for a page-turning read that is hard to put down. The story itself, written by award-winning military writer Dwight Jon Zimmerman, certainly aids in the feel that you must continue reading and can't put the book down. The book is but 96 pages, yet tells McQueen's story quite well. If you're an avid Steve McQueen fan you need this book in your collection, and if your only knowledge of Steve McQueen come from the movie Bullitt then Steve McQueen: Full-Throttle Cool is an easy read that will entertain and educate you about McQueen's life, loves, and cinematic contributions.

—Mark Houlahan
Hotrod.com
After reading Full-Throttle Cool I have even more appreciation for the life that Steve lead and the type of man that he became after his own personal Great Escape from his early years dominated by abandonment, abuse, trouble with the law & reform school which followed. This . . . easy read on Steve's life, on and off the track, in and out of the movies, is done in a unique compact, comic book format, with artwork by Gregg Scott, which provides maximum information and pop in a minimum of space and time.

Put this on your "Must Read" List!
www.RacersDrive.com
"I am an avid reader, but I'm not usually one to pick up a biography. This one drew me in, however. The graphic novel format of Full Throttle Cool was a more inviting style that's designed to appeal to a wide range of audiences, and I consumed all 96 pages in a single sitting. McQueen's exploits have a, "Wait, this guy was for real?" quality that keeps the pages turning. The story is told through dialogue and background text, and rises above the occasionally stilted prose that's often found in comics. Motorbooks is an imprint of Quarto Publishing best known for glossy historical tomes on automobiles and motorcycles. This graphic novel is a new direction, and it's an entertaining way to learn about an often-overlooked automotive icon."

—TopSpeed.com
By the time you've finished enjoying this book, there will be little doubt in your mind why McQueen is a patron saint of motorsports, and everything associated with him ranks as holy relic."

—Hemmings.com
Product Detail
ISBN-13: 978-0760347454
ISBN-10: 076034745X
Paperback: 96 pages
Publisher: Motorbooks
Language: English
Dimensions: 6 x 0.4 x 9 inches
---
Dwight Jon Zimmerman – Author
Dwight Jon Zimmerman is a best-selling and award-winning author, radio show host, and producer and the president of the Military Writers Society of America. Zimmerman has authored the text for several graphic novels, including the acclaimed The Hammer and the Anvil, a dual biography of abolitionist Frederick Douglass and President Abraham Lincoln. His other titles include The Vietnam War: A Graphic History and Uncommon Valor: The Medal of Honor and the Six Warriors Who Earned It in Afghanistan and Iraq. He is also the co-author, with Bill O'Reilly, of the New York Times number-one bestseller Lincoln's Last Days.
Greg Scott – Artist
Greg Scott is a comic-book artist who has done stints at both Marvel and DC Comics, working on such series as Gotham Central and Case Files: Sam and Twitch. He's also a film fanatic and he typically watches two movies a day. The aesthetic of film informs his work, more so than traditional drawing. Get sneak peeks at his blog: gregscottart.blogspot.com.
---
---
Buy the Book