I see parents on various online forums asking how old a child should be to introduce him or her to comics, and which ones might be good to start with.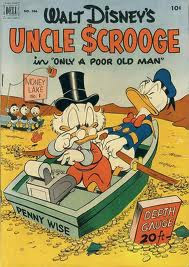 Okay, gentle people, there is no age limit. There are age-appropriate titles in most categories, and you can find good stuff for kids of any age. Look at Bone as a good initial adventure. But if you want to dazzle a kid with wonderful art and mystery and treasure and magic, find a collection of the old Disney duck comics–Donald Duck and Uncle Scrooge—from the 1940s, '50s and '60s. Many of these were done by Carl Barks, or, as he was lovingly called, "the good duck artist." Barks's stories are some of the best kids' adventures I've ever read/seen/experienced. You will love them, and your kids will too.
Way back in the 1970s, when I taught third grade in NYC's public schools, comics were a great help. I was able to get someone at Marvel Comics to send me a set of copied pencil proofs from a published issue of The Amazing Spider-Man. The issue was currently on sale, and I had a copy and so did one of my students. So we split the class and shared reading it aloud. It was a story that held their interest.
Then I broke the class into smaller groups and handed out copies of the pencil proofs. All of the artwork was on the page, except for color. But there was no lettering at that stage. And so it looked like a series of vertical storyboards, waiting for a story to be integrated with the artwork.
I think we got about a half-dozen superb and radically different stories from that issue, written by the kids. At least one was better (by class vote) than the one in the finished, printed comic.