Today is the fourth anniversary of the death of my dear friend Tom Cross. At fifty-four, having never smoked a day in his life, he died of lung cancer. He was an artist, an environmentalist, a writer, a visionary, a coastal-ecology expert who testified in court and before Congress on wetlands conservation. But he made his living by drawing magic: wizards and fairies. Before the advent of Photoshop, Tom worked with a partner, a photographer, to produce darkroom wonders combining photographic and artistic elements into a seamless whole that was a magical environment, a fairyland. He created and illustrated two books, The Way of Wizards and Fairy Garden: A Guide to the Fairies of the Flowers. And he created a series of bestselling prints featuring wizards and fairies that are still available.
I first met Tom some thirty-odd years ago, when I was editor in chief of Starlog magazine and he walked into my office with his portfolio. He walked out, a couple of hours later, with assurances that he would be interviewed and featured, along with his work, in a future issue. He wasn't quite sure what had happened. He had seen several other publishers and editors in his NYC sojourn, and none of them had reacted this way. I, on the other hand, knew exactly what had occurred: I had met a talented, visionary artist who understood the natural way of things, the meta-ecology of planet Earth.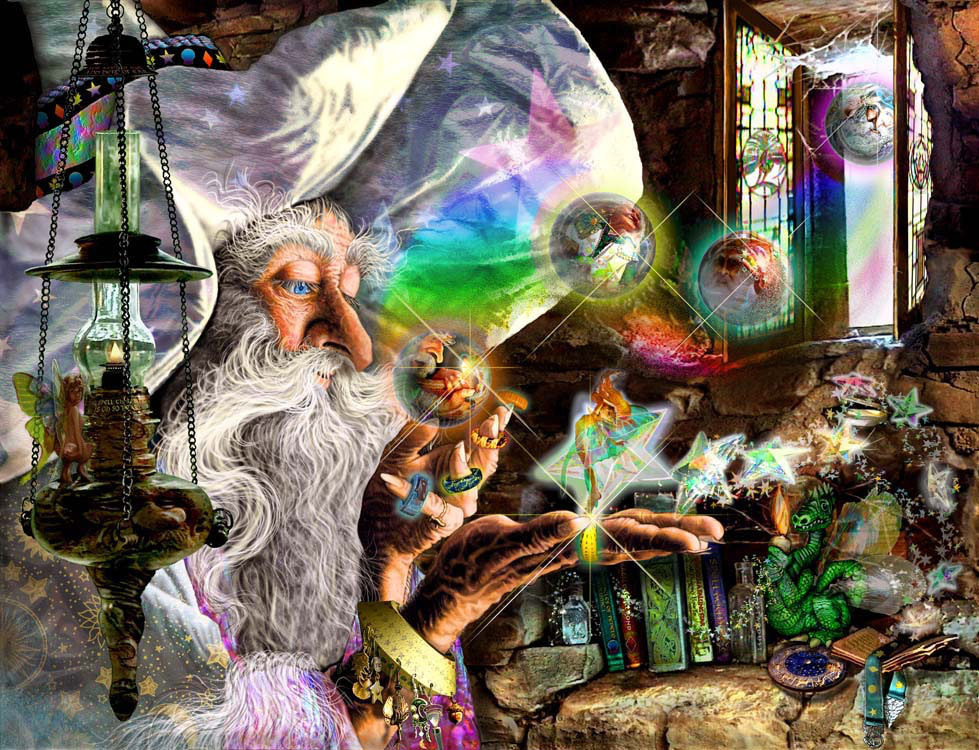 We revered many of the same artist and illustrators, both current and classic. In 1982, Brian Froud's work on The Dark Crystal, a groundbreaking fantasy by Jim Henson and Frank Oz, was profiled in the pages of Starlog. There were many books published about the movie, including the work of Froud. And then, as luck would have it, I was invited to a book party for Froud, and Tom was in the city at the same time. And so we went and met Brian Froud, which accounts for the photo. Tom was like a little kid asking Babe Ruth for an autograph, Froud was equally uncomfortable being the center of attention, but we all got along just fine.
Because Tom's real talent was engaging people. If you knew Tom, you were part of his large and ever-growing circle of friends, and he was very good at putting interesting folks from different paths together in the same space. Something positive, perhaps unexpected—but not by Tom—usually happened.
His wonderful wife Patti has kept Tom's website active. Please visit and see for yourself how magic can be captured on canvass. (www.tomcross-artist.com)