The New York Comic Con at the Javitz Convention Center just keeps getting bigger and bigger. The good news is that the show gets better organized each year, and though there were just as many people attending as do the San Diego Con, you could get around much better. The main aisles have been made wider, which is terrific. And this convention has yet to be taken over by the movie industry, which is wonderful.
But it is not run by "comics people," and I heard several small retailers—those from shops as well as artist and writers—complaining about how proper services were not provided. Some of this, of course, happens at every large convention, and NYCC is no exception.
There are now officially a bajillion entrepreneurs in the comics biz, many with but a single product or comic book to sell, and the variety of merchandise for sale was really interesting. I spent some time at the Starwarp Concepts table of Steven A. Roman–comic book writer, novelist, editor, and pop-cultural expert. Steve is hawking his latest graphic collection of stories about his angst-ridden teenage heroine, Pandora Zwieback, who is afflicted with "monster vision," which allows her to see through the human disguises of non-human creatures. Oh, and her mentor is a drop-dead gorgeous 400-year-old monster-fighting succubus. Yes, Pan is just a typical teen, trying her best to grow up and get by without having to kill too many creatures.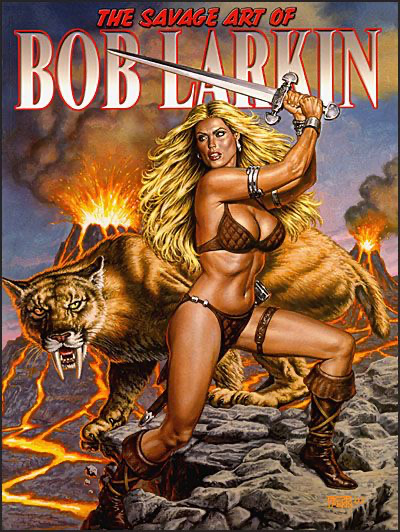 At the Starwarp table was Steve's guest, cover artist extraordinaire Bob Larkin. (That's Bob with the beard, me with the glasses.) Bob's cover work for Marvel in particular is iconic and graces such titles as The Savage Sword of Conan, Spider-Man, The Hulk, The Punished, Doctor Strange, Tomb of Dracula, etc. etc. etc. Sal Q. productions has an excellent volume out on The Savage Art of Bob Larkin.
Although there was much programming about how schools and libraries are buying and broadening the market for curriculum-related graphic materials—from adaptations of classic fiction stories to graphic biographies to volumes on science, history, etc.—there was not a large presence of non-superhero stuff on the convention floor, and very little graphic nonfiction in evidence. Although, clearly this wasn't the crowd for it, as cosplay seemed to be the overwhelming choice of many convention-goers. Costumes ranged from classic superheroes to newer anti-heroes; science-fiction movie and TV heroes; monsters and horror, and walking dead-related dark fantasy characters. (I went as a much-older version of myself.)